About Us
FILL is a refill store where customers can truly decrease their plastic use by filling their cleaning and hygiene products using their existing containers! You will be able to refill shampoo bottles, conditioners, body wash, face wash, hand soap, toothpaste, deodorant, face cream, hair spray, hair gel and more. Cleaning products can be refilled too. Dish soap, laundry soap, dish washer tabs, spray cleaner, all purpose cleaner, bathroom cleaner, window cleaner, laundry soap, fabric softener and more.
MAKE OUR WORLD A GREENER PLACE
There have been 345,038 plastics containers saved from all FILL Stores including FILL- Vernon's 241,042 plastics saved from the landfill!
Christmas and Stocking Stuffers
---
Testimonial
The excellent customer service at Fill has made my first steps toward being a part of the zero-waste movement easy. All of the products I have purchased are high-quality; I especially love the laundry soap. I am enjoying being able to refill bottles I already have while also trying out other zero-waste items.
- Brenda Robson
FILL- Vernon's Refill Store
208- 2306 Highway 6
Vernon, Canada V1T 7E3
Mon - Wed 9:30am - 6:00pm
Thur - Fri 9:30am - 6:00pm
Saturday - 9:30am - 5:30pm
Sunday - 10:00am - 4:00pm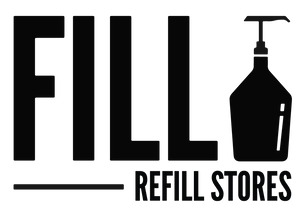 Franchise Opportunities
Are you interested in making the world a greener place by opening a FILL location in your city? Franchising opportunities available in British Columbia . Connect with Teresa Sanders, Founder of FILL, to find out more information.
fillvernon@outlook.com